Green roofing systems are gaining popularity mainly in the urban areas and are applicable to both residential and industrial buildings. This is because they have a high aesthetic value and they are efficient in energy conservation. The beautiful outdoor spaces can be made suitable for living areas, commercial communal areas or they can be conserved as natural habitat for different species of birds and wildlife. The key benefits for you are:
Heat loss reduction in the winter meaning lower energy bills
Improved heat protection in the summer
Reduced water run off
Reduction in local pollution
Increase in sound insulation
Why choose us for your green roof installation?
Green roofs also known as sedum roofs or living roofs are made up of a waterproof membrane, a system to repel root growth, drainage and substrate. This extra weight requires some initial planning and know-how. Fortunately, we are very experienced in installing green roof systems and can advise you on your property's structural suitability.
As roofing trends change, we endeavour to keep ahead of our competitors, to offer the customer the most efficient, environmentally friendly options available across the market. Ensuring our knowledge base is kept up to date by attending supplier conferences, seminars and exhibitions we are able to inform customers of the options available to them.
We also feel it is important that we offer all installations an insurance backed 10-year workmanship guarantee. This is in addition to the 20-year warranty offered on the EPDM.
We are happy to provide you with a quote free of charge and without obligation.
Residential Green Roofs
In built up areas green roofing systems add colour and interest to the concrete and tarmac landscape. Whilst adding a pleasing look to your property you can also enjoy improved energy efficiency as they provide excellent building insulation. Plus, you know you're doing your bit towards the environment by providing food and cover for bees, insects and birds.
Commercial Green Roofing
For commercial and industrial buildings green roofing provides the same benefits as residential roofing, but it is something that is very useful when calculating offset for environmental impact.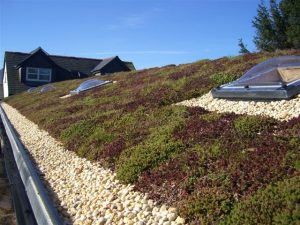 About Us
Our company was incorporated in October 2014, and has gone from strength to strength as rubber roofing has increased in popularity. Originally concentrating on residential roofs, the company can now include industrial and commercial fittings to it's portfolio.
Peace of Mind
We also feel it is important that we offer all installations an insurance backed 10 year workmanship guarantee. This is in addition to the 20 year warranty offered on the EPDM. Other roofers might guarantee their own work, but you will have to convince them that their work is below standard before they will repair/remediate and problems. With an insurance backed guarantee you know you are covered by an independent body, should the work we do not be up to standard. We offer this to all our customers FREE OF CHARGE.
Finance Options
Permaroof Kent offer a range of finance packages to help spread the cost of your new EPDM flat roof installation. Our customers can now opt to choose a finance option from £750 to £25,000 and get an on-the-spot decision.
Areas Covered:
Dartford, Gravesend, Rochester, Chatham, Gillingham, Medway, Bexley, Bexleyheath, Welling, Erith, Belvedere, Sidcup, Eltham, Swanley, Framingham, Eynsford, Darenth, Orpington, Petts Wood, Chislehurst, Bromley, Beckenham and the rest of Kent.
Permaroof Kent is a part of the Permaroof Contractor Network.